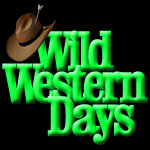 | | | |
| --- | --- | --- |
| | &nbsp | &nbsp |
Guestbook Entries 11 to 16 &nbsp&nbsp&nbsp&nbsp Total Entries(16)
| | | |
| --- | --- | --- |
| Date: | &nbsp | Thu, Sep. 12, 2002 02:15 PM |
| Name: | &nbsp | Mary Daly |
| e-mail: | &nbsp | dalym@cityofalvarado.org |
| Web site: | &nbsp | www.cityofalvarado.org |
| How did you hear about us?: | &nbsp | pocket flyers & personally from the Dosseys |
| Comment: | &nbsp | I plan to bring our 2 grandsons, Thomas and Robby Glazier. I hope they will have a rip-roaring time. |


| | | |
| --- | --- | --- |
| Date: | &nbsp | Wed, Sep. 04, 2002 04:31 PM |
| Name: | &nbsp | Carla |
| e-mail: | &nbsp | carlat12@yahoo.com |
| Web site: | &nbsp | Funtier Games |
| Comment: | &nbsp | Will be posting flyers for WWD at the Southlake and Cleburn Flea Mkts. |


| | | |
| --- | --- | --- |
| Date: | &nbsp | Fri, Aug. 30, 2002 06:29 AM |
| Name: | &nbsp | TD Baker & Chris Davis |
| e-mail: | &nbsp | tdbaker2002@yahoo.com |
| Web site: | &nbsp | TD Baker - Acoustic Southwestern Folk Music |
| How did you hear about us?: | &nbsp | We played at the March WWD |
| Comment: | &nbsp | Y'all better come, now, y'hear! This is something you can do with the kids, and reasonably priced, too! So much stuff to do, booths to peruse, and....music! |


Date:
&nbsp
Tue, Aug. 13, 2002 04:38 AM
Name:
&nbsp
Ann-HelÚn Bockman
e-mail:
&nbsp
receptionen@stanspress.se
How did you hear about us?:
&nbsp
surfing
Comment:
&nbsp
Hi,


I found you when I was looking for some pictures to our western-camp. It┤s just a little private one. So I needed some pictures of a prairie-waggon and some women clothing in westernstyle(didn┤t find any. Very nice site.


Hugs from a true swedish Cowgirl.


| | | |
| --- | --- | --- |
| Date: | &nbsp | Mon, Aug. 12, 2002 07:41 AM |
| Name: | &nbsp | COWBOY JOE (radio name) |
| e-mail: | &nbsp | cbjrr@aol.com |
| Web site: | &nbsp | COWBOY JOE'S RADIO RANCH |
| How did you hear about us?: | &nbsp | link |
| Comment: | &nbsp | Howdy from the world headquarters for real WESTERN music - Cowboy Joe's Radio Ranch. |


| | | |
| --- | --- | --- |
| Date: | &nbsp | Fri, Aug. 02, 2002 02:37 PM |
| Name: | &nbsp | Craig Lutke |
| e-mail: | &nbsp | craig@wildwesterndays.com |
| Web site: | &nbsp | Wild Western Days |
| How did you hear about us?: | &nbsp | I live here |
| Comment: | &nbsp | Welcome to the Wild Western Days guestbook. Feel free to post your thoughts about the festival and share any experiences you might have had or are looking forward to having. |