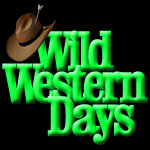 UPDATES!
There are no plans to hold a Wild Western Days in 2003.
Check back occasionally, though, and see what might be going on in 2004!



A festival to celebrate Texas' rich 19th century history, Wild Western Days will be fun for the entire family. From our western shops, great food & drink, good music, and jaw-dropping shows, we have a little bit for everyone. So prepare for a trip back in time at Wild Western Days, where the Old West will come to life before your very eyes.

Wild Western Days took place in March & September 2002 in Alvarado, TX.


Wild Western Days was packed with all kinds of things to do, including:

Stunt Shows

Craft Shopping
Wild West Stunt Shows!
Western Shops!
Country Music Bands!
Gunfights!
Western Food & Drinks!
Native American Dances!


Native American Dancing

Family Fun
Copyright ©2001
Ibidis Mortem Productions